Today I walked a few blocks to the store for a few things. Actually I didn't need anything but I had a couple for TP that was going to expire tomorrow and wanted to use it.
On the way home, I spotted these two pennies lying in the dirt next to the sidewalk so I snapped them up.
That brings my 2013 found money total to $25! This surpasses last year (my best year to date till now) by nearly $10. Yay!
I've been making some fun Christmas cards on Zazzle with vintage images in the public domain. I love these singing cats!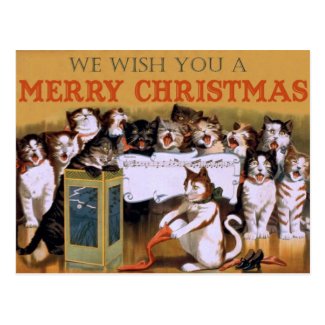 Singing Cats - Vintage Christmas Postcard by ScarlettOHairy
Get the best in online postcard printing at zazzle
UPDATE: I took a short walk this evening and found another penny in a parking lot!
This Found Money Facts:
Denomination: 3 pennies
Year: ?, 1968, 2011
U.S. Mint: ?, D, D
Condition: tarnished and dirty and one is unreadable
Total Found Money to Date in 2013: $25.01