This morning I had to run to the post office then went to Fresh and Easy for a few things. I found a penny in the change tray and a penny in the parking lot! I waited all day to write this blog post because I was editing and just didn't take the time to do it. I'm glad I waited.

I took a stroll (that's just like a walk, in case you were wondering) a little after 6 this evening, and right away in a neighboring apartment building parking lot I found this nickel. At first I thought it was one of those flat batteries, but nope, it was a nickel!
I walked on and spotted another penny in another apartment building parking lot.
There is a lot of money out there to be found! Have you found any of it this week?
Oh, I sold one of these Math Teachers Believe in Angles Christmas tree ornaments today! But don't worry, there's lots more where it came from!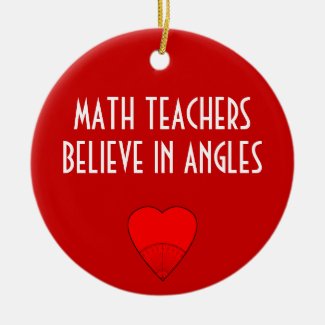 Math Teachers Believe In Angles Christmas Tree Ornament by ScarlettOHairy
Shop for Funny protractor Ornaments online at Zazzle.com
This Found Money Facts:
Denomination: 3 pennies, 1 nickel
Year: pennies: 1999, 2007, ?; nickel: 2007
U.S. Mint: pennies: D, D, ?; nickel: D
Condition: one penny is black and scratched up, one is tarnished, the other is shiny; nickel is like new
Total Found Money to Date in 2013: $19.39