Today I volunteered at the place I've been going for a few months for the last time. If you care to hear the drama, you can read it here.
Then on the way home, I was steaming mad so I pulled in to the parking lot with the Little Caesar's drive through. I walked around to calm the heck down and found 2 pennies in the drive through (or is it drive thru?). Either way, there they were just waiting for me. Then I found another penny in the parking lot. Yippee!
When I got home I posed the pennies next to this fierce guy (holding a crocheted basket). Rarrr!
Here's one of my new Zazzle designs: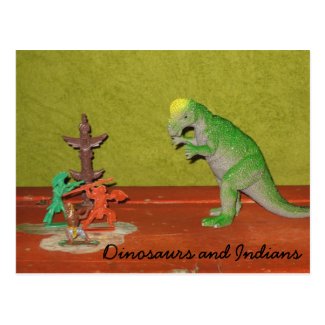 Dinosaurs and Indians Postcard by ScarlettOHairy
Get your postcards printing from zazzle
What about you? Found any money lately?
Update: While taking out the trash this evening, I found a penny in the parking lot! Yay! Four in one day.
This Found Money Facts:
Denomination: 4 pennies
Year: 1996, 1999, 2006, 2012
U.S. Mint: D, D, D, D
Condition: all are tarnished, one is still a tad shiny
Total Found Money to Date in 2013: $18.46