This morning I took a walk before it got too hot out. I once again trotted up to the fast food place, a great place to spot money most of the time, and on the way, I found a penny in the street. Then I found a penny in a gas station parking lot along the side, no where near the pumps.
Then I went to the fast food place and saw two coins in the drive through lane but there were cars backed up and I knew it would be purt 'near impossible to get them so I walked on. And one was a quarter! So so sad.
To make up for it, I guess, I sold this poster on Zazzle. Yay!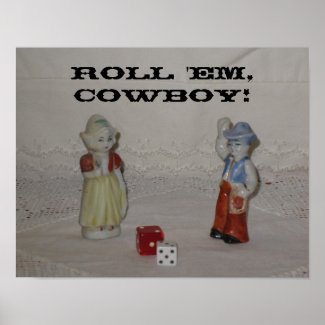 Roll 'Em, Cowboy Poster
by
ScarlettOHairy
Shop for
Posters
& Prints online at Zazzle.com
Have you found any money lately?
Facts About This Found Money
Denomination: 2 pennies
Year: 1972, 1992
U.S. Mint: D, D
Condition: tarnished and dirty
Total Found Money in 2014 to Date: $25.64