This morning I set off and took a short walk since it wasn't miserably hot out. Only 82°F, which is still plenty hot. By the time I got home it was 90. But the high today was only 99°F, which sounds horrible, but I was just out there and it's not bad at all. I guess that's what happens when you live somewhere for awhile. You adapt.
Anyway, on my walk I found 2 cents.
I've been making some items to sell on Zazzle today using a photo of a couple of my cute stuffed guys from childhood. Aren't Santa Claus and Mrs. Claus so cute? I just love them and am happy to share them!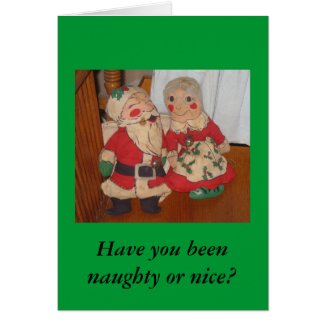 Mr. and Mrs. Claus Christmas Card
by
ScarlettOHairy
Find more
note cards online
at zazzle.com
Have you found any money lately? Please let us know by leaving a comment below. Thanks!
Facts About This Found Money
Denomination: 2 pennies
Year: pennies: 2011, 2013
U.S. Mint: D, D
Total Found Money in 2014 to Date: $25.36